PUBLICATIONS
All publications produced in the FutureEUAqua project.
by Åsa Maria Espmark
Presented at AE2019 conference in Berlin, Germany 2019
European aquaculture production has reached 1.25 million tonnes of seafood annually, with a value of over 4 billion euro. Of this amount, 4% is certified as organic, amounting in 2015 to a total of approximately 50,000 tonnes (EUMOFA, 2017). In 2015, EU consumers spent 54 billion euro for buying fisheries and aquaculture products, reaching the highest amount ever recorded (EUMOFA, 2017). Nevertheless, Europe is still heavily dependent on external markets to cover this demand. The increased demand for aquaculture products has to be covered at the same time as food production need to be more sustainable, climate friendly and supporting the UN Sustainable goals. The newly started EU project FutureEUAqua aims to effectively promote sustainable growth in aquaculture that is resilient to climate changes, and environmental friendly organic and conventional aquaculture of major fish species in Europe. It is a well-documented assumption that aquaculture that will meet future challenges with respect to the growing consumer demand for high quality, nutritious and responsibly produced food. FutureEUAqua will promote innovations in the whole value chain, including genetic selection, ingredients and feeds, non-invasive monitoring technologies, innovative fish products and packaging methods, optimal production systems such as IMTA and RAS, taking into account socioeconomic considerations by the participation of a wide spectrum of stakeholders, training and dissemination activities. To achieve these ambiguous goals, 32 partners from R&D, industry and associations, originating from nine countries will collaborate in research, training, dissemination and contact with stakeholders through e.g. stakeholder events. FutureEUAqua will contribute with innovations that will arrive Technology readiness level (TRL) ranging from five to nine. Innovations will result from all research topics, including sustainable genotypes, feeds and farming management solutions; smart tools to monitor the farming environment that guarantee aquatic animal health and welfare, tailor-made aquaculture fresh/processed foods and packaging, IT tools and information packages to improve consumer's awareness about aquaculture products and related markets.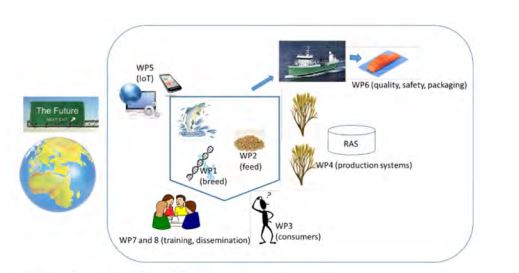 The results and innovations will have impacts by improving resilience and sustainability of aquaculture farming systems and practices. The results will have impact on a diversity of end users representing the whole value chain from breeding companies to processing plants and intelligent packaging, including e.g. digital farming solutions for improved animal health and welfare, retailers and customer care providers. We intend to gather stakeholders to contribute to the professional skills and competences of those working and being trained to work within the blue economy and support the implementation of the EU Common Fisheries Policy (CFP) and contribute to policymaking in research, innovation and technology.
by A. Kettunen and M. Lillehammer
Presented at AE2019 conference in Berlin, Germany 2019
Introduction
The objective of the WP1 in FutureEUAqua is to assess how the current breeding programmes for salmon, seabass, seabream and rainbow trout can respond to future demands for novel feed compositions, and to make further improvements to disease resistance, climate resilience and animal welfare. For Atlantic salmon (Salmo salar) we estimate the genotype by diet/climate interactions (GxE) in semi-commercial salmon production system and validate best selection methods in salmon breeding programs by comparing traditional BLUP selection with GS/MAS for production and robustness traits. Estimated correlations will be taken as indicators of the magnitude of re-ranking of genotypes across diets/environments. Power calculations are elementary part of the experimental design but unfortunately often de-prioritized, compromising the critical interpretation of the results. A priori power calculations of genetic studies are characterized with multiple uncertainties, such as true relationship structure, number of families and individuals at the time of registration and unknown heritability of the traits of interest. This said, we argue that by performing a range of power calculations it is possible to frame the true power of the experiment and improve the probability of executing scientifically solid experiments with given restrictions of resources. We demonstrate the optimisation of the experimental design in order to have adequate power to detect significant GxE (diet/climate aggregate) given FutureEUAqua WP1 resources. Read more on page 681 here…
Giuseppe Lembo*, Pierluigi Carbonara, Sebastien Alfonso, Walter Zupa, Maria Teresa Spedicato
Presented at the AE2019 conference in Berlin, Germany 2019
Introduction
The overall objective of the project FutureEUAqua is to promote sustainable growth of environmental friendly organic and conventional aquaculture to meet future challenges of the growing consumer demand for high quality, nutritious and responsibly produced food. In WP5 of the FutureEUAqua project we are committed to develop and test a multiplatform tracking system for simultaneously monitoring the activity and physiology of fish, as well as the main parameters of the environment where they are farmed, by using a wireless communication system. The study of aquatic animals (e.g. fish behaviour, condition, physiology) and the farming environment presents unique challenges to scientists because of the physical characteristics of water. However, scientific studies and efforts have increasingly turned to the use of electronic sensors, which have enhanced our knowledge on the performances of the farmed fish and the impacts on the surrounding aquatic system. In their most basic form, electronic sensors and tags may include radio or acoustic beacons transmitting signals, which can bring specific codes to identify animals, and allow them to be tracked using receivers that detect the transmitted signals (Hazen et al. 2012). Basic archival tags must be, instead, physically recovered in order to obtain the data. Because the strength of radio signals rapidly attenuate in seawater, acoustic transmissions is preferred for fish tracking in marine environment (Lembo et al., 2002), while radio transmission is commonly used in freshwater environment. More advanced tags incorporate sensors that measure and record a suite of environmental and/or biological parameters of fish (Cooke et al. 2016). Simple biomass estimators and logging stations, installed on the feeding barge and/or on the cages, can give full control over all water parameters and provide the information required to monitor/expand the production. Flexible sensors systems are conceived to log oxygen, temperature, salinity, sea current, pH, wind and CO2. In addition, sensor and camera systems may provide also information for estimating the biomass in the cages and developing reliable fish feeding strategies. Indeed, electronic sensors are significantly improving our understanding of fish behaviour and are emerging as key sources of information for improving aquaculture management practices. The wireless communication system to monitor the large scale demonstration activities foreseen in the project FutureEUAqua will both facilitate effective study design and replication, increasing the accuracy of data standardization, processing and interpretation (e.g., Huveneers et al. 2016), providing industry with the information needed to facilitate health/welfare and optimal management practices. Read more here (pages 779-780)…
A. Vasilaki, K. Kousoulaki , T.A. Samuelsen , G. Pyrenis , D. Kogiannou , K. Grigorakis , E. Fountoulaki , E. Mente and I. Nengas
Presented at the AE2019 conference Berlin, Germany 2019
Introduction
Limited availability of ingredients in aquaculture feeds is crucial in order to maintain the increasing demands of aquaculture industry Gamboa‐Delgado & Márquez‐Reyes 2018). However, to safeguard sustainable exploitation of natural resources, the use of capture fisheries-based fishmeal and fish oil needs to be reduced in conventional fish feeds (Tacon & Metian, 2015). Accordingly, sources with high quality protein and essential nutrients are imperative need otherwise fish performance (Kousoulaki et al., 2012), health status and final product quality (Kousoulaki et al., 2016) may be jeopardized when substituting dietary fish meal by alternative ingredients of lower nutritional value. The main objective of this study is to test ingredients and design formulations for commercially relevant tailored-made aqua feeds, ensuring high performance, maintaining, or enhancing nutritional value and environmental friendliness. Read more here (pages 1571-1572)…
Authors: Dimitrios Dimogianopoulos; Kriton Grigorakis
Abstract
Reliable, nondestructive fish freshness evaluation applicable during fish commercialization has been continuously pursued by scientists and industry. Taking into account that fish texture is primarily affected even at early stages of post-mortem storage, a relevant nondestructive testing framework for rapid textural assessment of fish freshness was developed in the past. Herein, an algorithm operating within the aforementioned framework and optimized for use in industrial environments is proposed. Sea bass (Dicentrarchus labrax) both freshly killed and stored on ice for 6 days have been used for comparative testing. The fish is part of a system, which is vibration-tested via a new testing protocol designed for easy implementation and robustness to noise. At the same time, a new closed-form analytical expression for the system response to the specific testing is computed and used along with experimental data, for obtaining specific mechanical (thus muscle-structural) characteristics of fish flesh. This computation is designed to only require readily available routines found in most relevant software. The algorithmic operational framework has been used in two different test setups (a custom-built test rig and a prototype device), with results following remarkably similar trends, clearly discriminating different textural (thus freshness) characteristics, and consequently validating the proposed approach. Read more here…
Authors: Janna Cropotova; Silvia Tappi; Jessica Genovese; Pietro Rocculi; Marco Dalla Rosa; Turid Rustad
Abstract
A combined effect of pulsed electric field application and salting in a brine with 5 and 10% w/w NaCl on oxidative stability of lipids and proteins, as well as color characteristics of sea bass samples, was assessed in the study. The applied intensity of the current was set at 10 and 20 A corresponding to 300 and 600 V cm−1, respectively. Pulsed electric field (PEF) treatment led to a significant (p < 0.05) increase in primary and secondary lipid oxidation products expressed as peroxide value, conjugated dienes and 2-thiobarbituric acid reactive substances in PEF-treated samples compared to untreated ones. Conjugated dienes, as unstable primary oxidation products, correlated with b∗-value (p < 0.05, R = 0.789), suggesting their contribution to the yellowness of the fish flesh due to fast decomposition and conversion into secondary oxidation products yielding yellow pigmentation. However, none of the fish samples treated at the higher current intensity of 20 A exceeded the acceptable level of 5 meq active oxygen/kg lipid according to the requirements of the Standard for fish oils CODEX STAN 329–2017, suggesting acceptable oxidative status quality of sea bass samples after the treatment. PEF-treated fish samples also showed a significant increase in Schiff bases and total carbonyls on day 5 and day 8 of brine salting compared to non-treated samples, revealing a strong effect of electroporation on protein oxidation. Read more here…
GENETIC VARIATION FOR CLIMATE CHANGE RESILIENCE IN GROWTH OF ATLANTIC SALMON
Authors: B.S. Dagnachew, I. Thorland, B. Hillestad & A. Kettunen
The results showed there is limited genotype re-ranking for growth in Atlantic salmon, which indicates that either there exits limited genetic variation in climate change resilience, or the current breeding population is robust towards climate change.
Authors: A. Tampou, S. Andreopoulou1, I., Nengas, A. Vasilaki, Ι.Τ. Κarapanagiotidis, E. Mente
Introduction
Organic aquaculture seems to be a very well promising sector in the global ecology and economy (FiBL & IFOAM, 2020). Organic aquaculture reflects a specific production approach driven by the growing public interest in sustainable utilization of resources (Mente et al., 2011, 2012, 2019; Lembo & Mente, 2019). In the context of sustainability, the search for ingredients that are characterized by low FIFO ratios is of much interest. The aim of this study is to examine the growth performance of sea bream (Sparus aurata) fed diets with a low FIFO mix of ingredients for organic aquaculture. Read more here…
MARKER ASSISTED SELECTION FOR RESISTANCE AGAINST VIRAL NERVOUS NECROSIS IN EUROPEAN SEABASS (Dicentrarchus labrax)
Authors: M. L. Aslam, S. Vela-Avitúa,V. Bakopoulos,K. Papanna, L. Kottaras, A. Dimitroglou, L. Papaharisis,C. S. Tsigenopoulos, I. Thorland b
Authors: K. Kousoulaki1*, T. Larsson and L. Sveen
Introduction
Many different raw materials are considered as candidates for replacing fish meal (FM) and fish oil FO) in diets for salmonids, particularly focusing on locally produced low trophic level organisms with higher sustainability and circular economy potential. However, most of these novel raw materials differ from fish , containing e.g., high levels of complex carbohydrates or fully saturated triglycerides, and their nutritional value and nutrient bioavailability must be investigated before their use in commercial feeds. Read more here…
GROWTH PERFORMANCE OF GILTHEAD SEABREAM (Sparus aurata) FED LOW
FISHMEAL DIETS WITH INNOVATIVE INGREDIENTS
Authors: Α. Tampou1*, S. Andreopoulou1, Ι. Νengas2, Κ. Kousoulaki3, Α. Vasilaki2, E. Mente1
Sébastien Alfonso,* Walter Zupa, Maria Teresa Spedicato, Giuseppe Lembo, and Pierluigi Carbonara
John R. Turner, Academic Editor
Simple Summary
Assessment of the energetic costs of different living activities is of primary interest among fish biologists. However, assessing energy expenditure in free-swimming fish is challenging owing to the difficulty of performing such measurements in the field. Therefore, the use of implant fish with sensors that transmit signals that serve as a proxy for energy expenditure is a promising method to counter these limitations, allowing remote monitoring in tagged fish. The aim of this study was to correlate the acceleration recorded by the tag with the activities of the red and white muscles and the oxygen consumption rate (MO2), which could serve as a proxy for energy expenditure, in gilthead sea bream (Sparus aurata), a key species in European marine aquaculture. The acceleration recorded by the tag was successfully correlated with MO2. Additionally, through electromyographic analyses, we determined the activities of the red and white muscles, which are indicative of the contributions of aerobic and anaerobic metabolisms during swimming. Finally, the tag implantation did not affect the swimming performance, metabolic traits, and swimming efficiency of the sea bream. By obtaining insights into both aerobic and anaerobic metabolisms, sensor mapping with physiological indicators may be useful for the purposes of aquaculture health/welfare remote monitoring of gilthead sea bream.
Read the full article here.
Cropotova, J., Tappi, S., Genovese, J., Rocculi, P., Laghi, L., Dalla Rosa, M., & Rustad, T.
Absract
Pulsed electric field (PEF), as an emerging technique, has recently gained increased popularity in food processing and preservation. However, applications in the seafood industry are still scarce. In the present study, sea bass samples were subjected to PEF pre-treatment prior to brine salting to verify the possible acceleration of the brining rate, increasing the salt uptake and ensuring the homogeneous salt distribution in the muscle. The applied intensity of the current was set at 10 and 20 A (corresponding to a field strength of 0.3 and 0.6 kV/cm) prior to sea bass salting in brine with 5 and 10% salt concentration, respectively. The results have shown that PEF pretreatment could effectively shorten the brine salting time compared to control samples (from 5 to 2 days), or increase the salt uptake up to 77%, ensuring at the same time its homogenous distribution in the muscle. However, myofibrillar protein solubility was significantly reduced in PEF pretreated samples. At the same time, no significant differences in water holding capacity and water activity between PEF pre-treated and untreated samples were found during the whole salting period. Freezable water was influenced by PEF application, but the effect was significant only at the lowest salt concentration during the first period of the salting process.
Read the full article here.
Training material of the online training on "Sustainable, resilient and climate friendly Blue Growth of EU Aquaculture and Beyond"
"Sustainable, resilient and climate friendly Blue Growth of EU Aquaculture and Beyond" was the title of the FutureEUAqua online course which was hosted hosted by CIHEAM Bari's eLearning platform, aiming to turn/transform results and outputs into practical knowledge to implement the innovative solution identified and developed in the framework of the Horizon 2020 "FutureEUAqua" project.
The course was mainly addressed to aquaculture stakeholders, innovation brokers, SMEs and policymakers, involved in deploying innovations in aquaculture, with a focus on sustainable agriculture, feed ingredients and feeding strategies, organic aquaculture, production systems, safety and quality, monitoring technologies, consumer awareness and the European regulatory framework for aquaculture.
The course started on 15 June 2022 and lasted for 6 weeks, covering 3 topics:
Module I: Innovative feeds and feeding strategies for improving welfare & performance of fish in sustainable and organic aquaculture
Module II: Consumer perception and preferences regarding aquaculture
Module III: Regulatory framework for aquaculture in the EU, with special focus on organic aquaculture