Latest News
From FutureEUAqua or linked to the project
http://futureeuaqua.eu/wp-content/uploads/2019/03/LOGO-FUTURE-EUAQUE-©2019-300x173.jpg
0
0
admin5443
http://futureeuaqua.eu/wp-content/uploads/2019/03/LOGO-FUTURE-EUAQUE-©2019-300x173.jpg
admin5443
2020-10-05 00:26:33
2020-10-08 13:38:03
FutureEUAqua video by Elena Mente

On 9 October 2019, at the European Aquaculture Society (EAS) conference in Berlin (https://www.aquaeas.eu/)  FutureEUAqua, AquaIMPACT  and iFishIENCi  will hold a joint half-day session. All three projects will provide an overview on their activities and some of the results available so far. The joint session will highlight the synergies and complementarity between the projects. 
When: 9 October 2019
EAS session: Sustainable European aquaculture 4.0: nutrition and breeding innovations
AquaIMPACT:
AquaIMPACT – genomic and nutritional innovations for genetically superior farmed fish
Development of fish feeds and feeding strategies for genetically superior fish from breeding programs
The impact of genomic selection in commercial breeding programs for four important species in European aquaculture
iFishIENCi:
iFishIENCi – general overview
Concept paper on Life Cycle Assessment (LCA)
Concept paper on data modeling for aquaculture (to be confirmed)
FutureEUAqua:
FutureEUAqua – future growth in sustainable, resilient and climate friendly organic and conventional European aquaculture
Feed and nutrition in organic aquaculture
Power calculations for optimisation of the experimental design to detect g x e: salmon experiments in FuturEUAqua
The role of internet of things for healthy fish and environment in the European aquaculture
http://futureeuaqua.eu/wp-content/uploads/2019/07/EAS-logo-e1562150015132.png
731
1963
admin5443
http://futureeuaqua.eu/wp-content/uploads/2019/03/LOGO-FUTURE-EUAQUE-©2019-300x173.jpg
admin5443
2019-07-03 12:13:51
2019-07-03 12:55:40
JOINT SESSION WITH AquaIMPACT and iFishIENCi AT THE UPCOMING EAS CONFERENCE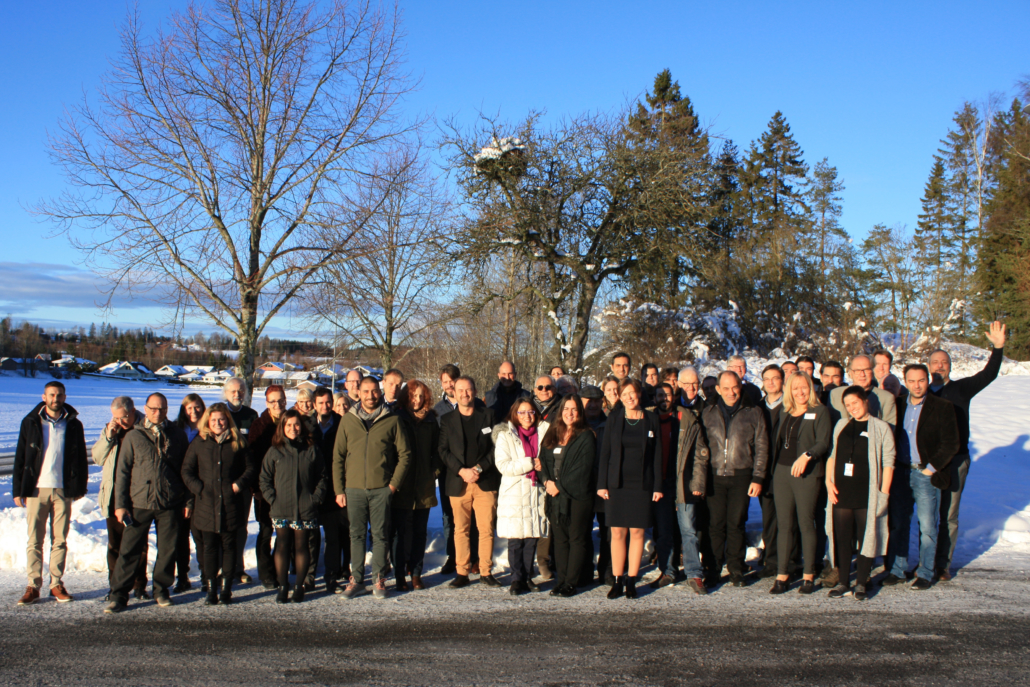 The EU project FutureEUAqua was kicked off on 11 – 12 December 2018, at Nofima Ås, Norway.  32 partners from 9 countries were represented when 50 participants found their way in the pre-Christmas period to an inspiring and promising project start-up meeting.
At the two-day meeting, all work-packages presented their plans and there were many fruitful and inspiring scientific discussions during all presentations.  The project officer also attended the meeting and gave a presentation where she, amongst other good points encouraged keeping focus on the impact through the project.  The second day was devoted to parallel workshops in the different work packages, thus enabling a real start of the work.
FutureEUAqua will work for a future-oriented and sustainable organic and conventional aquaculture production, and will work throughout the value chain from genetics, alternative feed ingredients, monitoring of health and welfare, innovative products and packaging methods and optimal production systems.  The project will also work on consumer perceptions and regulations, as well as dissemination and training of a wide range of stakeholders.
Picture : Reidun Kraugerud ©Nofima  
http://futureeuaqua.eu/wp-content/uploads/2019/03/FutureEUaqua2.jpg
2510
3764
admin5443
http://futureeuaqua.eu/wp-content/uploads/2019/03/LOGO-FUTURE-EUAQUE-©2019-300x173.jpg
admin5443
2019-03-12 16:11:55
2019-04-11 14:54:11
FutureEUAqua kick-off meeting
FutureEUAqua
Nofima AS
Muninbakken 9,
9019 Tromsø – NORWAY